Popular Commercial Locations Include:
Entrances and Open Areas
Monitor major points of entry to ensure that no suspicious activity falls under the radar
Hallways And Staircases
Watch over busy areas throughout the day, as they offer plenty of coverage for prospective criminals.
Perimeter And Parking Lots
Monitor outdoor activity and ensure the saftey of your employees as they walk to and from their cars.
Potentially Hazardous Areas
Keep your employees safe at all times, especially if the job requires handling heavy machinery or toxic materials.
Small Business Camera Surveillance Solutions
Being a small business owner isn't any easier than owning a larger one. There's still a lot to think about: managing employees, balancing finances, purchasing supplies, preventing theft - the list goes on. It's still a 24/7 job that often requires juggling multiple responsibilities at the same time. Take some of the stress off your shoulders by investing in a Emerge surveillance camera system, so you can focus on growing your business and keeping your customers happy.
Popular Small Business Locations Include:
Entrance-ways and Windows
Keep an eye out on traffic flow around busy entrance-ways and large windows.
Cash Registers And Locked Safes
Positioning a camera near the cash registers and safes will help keep track of your money.
Low Visibility Areas
Low visibility areas provide ample coverage for illicit activity, so a visibly placed camera will help deter thieves.
Backrooms / Inventory
Ensure your business operations are all up and running while protecting yourself from unwarranted theft.
A Brand New Dating Concept
Trust, intimacy, soulmates, etc. We have heard all these words before, but why is food not mentioned when we talk about a good love life? If your man can't handle a 32oz. steak or your girlfriend is just picking at the salad, a long term relationship is almost guaranteed to fail. Here at Let's Eat, you can find real people with the right appetite.
Meals
Valentine's Cheeseburger $14.45
A large homemade burger with prime meat, cheese and bacon.
---
The Steak $19.99
A large steak cut from premium meat. Served with fries or baked potato.
---
Oklahoma Wonder $22.69
A Large 16oz T-bone steak served with steak fries.
---
The Texas Terminator $39.29
A very large 32oz steak for the girl or boy who want's a challenge. Comes with various side dishes.
---
Let's Meat WTF Steak $62.50
This is basically just a medium rare cow served with a bucket of gravy.
Beverages
Let's Meat Premium Draft Beer $5.49
Our own beer specially suited for our meals.
---
Let's Meat Premium Bottle Beer $5.99
Same as our draft beer, just in a bottle.
---
Tap Water $3.45
Just some clean water from the tap.
---
Tequila Shots $2.99
Our Tequila shots are golden, warm and dangerous.
---
Let's Meat Limited Edition Strong Beer $12.50
The best beer you will ever taste - period!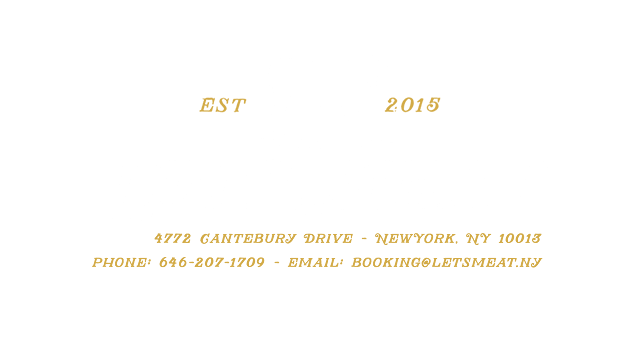 Opening Hours
| | |
| --- | --- |
| Monday - Thursday | 6:30 pm - 11:30 pm |
| Friday - Saturday | 6:30 pm - 2:00 am |
| Sunday | 11:00 am - 5:00 pm |
Follow Us
You can follow Let's Meat on all major social platforms. News, contests and special offers are announced on these platforms.